DKP(CD)9105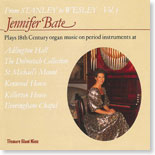 Music by William Croft, John Stanley, William Walond, George Frideric Handel,
Charles Burney, John Keeble,  Samuel Wesley.
JENNIFER BATE
plays 18th Century organ music on period instruments at
Adlington Hall, Cheshire.
The Dolmetsch Collection, Haselmere, Surrey.
The Chapel of St. Michael's Mount, Cornwall.
The Iveagh Bequest, Kenwood, London.
Killerton House, Broadclyst, Exeter, Devon.
The Chapel of Our Lady and St. Everlida, Everingham, Yorkshire.
1-26.
Total duration:        59:04